DB061 - Where's the Hotel?
This is the sixty-first puzzle you will encounter in Professor Layton and the Diabolical Box. To access this puzzle, you must attempt to enter one of the buildings. In order to solve this puzzle, you must determine which building is the hotel.
[edit]
Messages
[edit]
When Failed
Too bad!
Study the area carefully and you'll find the hotel soon enough.
[edit]
When Completed
That's right!
The windows and door of building C spell out the word HOTEL.
[edit]
Solution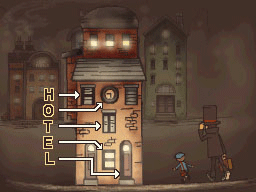 Building C is the hotel.
[edit]
Progress
1470 Picarats and 82 Hint Coins.