DB062 - Smell the Roses Again
This is the sixty-second puzzle you will encounter in Professor Layton and the Diabolical Box. To access this puzzle, you must examine the flower vase. In order to solve this puzzle, you must place down roses in the room to make sure the fragrance reaches every square, while making sure to not have the fragrance overlap in a single square.
[edit]
Messages
[edit]
When Failed
You cannot fail this puzzle.
[edit]
When Completed
Mm mmmm!
With those roses in place, the whole room will be smelling great before you know it!
[edit]
Solution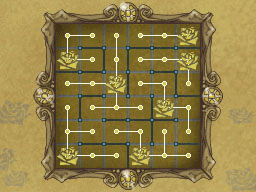 Arrange the roses as shown.
[edit]
Progress
1510 Picarats and 88 Hint Coins.