DB066 - The Locked Box
This is the sixty-sixth puzzle you will encounter in Professor Layton and the Diabolical Box. To access this puzzle, you must examine the tool in the mine cart on the right. In order to solve this puzzle, you must determine which numbers to turn the red dial on to, matching the numbers on the blue dial.
[edit]
Messages
[edit]
When Failed
Too bad!
If you can just work out how the two dials turn in relation to one another, the rest is a breeze.
[edit]
When Completed
That was tough!
The red dial has to be turned to 2, 7, 1, and finally 4 to produce the numbers you need on the blue dial.
It turns out these two dials actually rotate in opposite directions. One great way to solve this problem is to create a chart with each dial's corresponding numbers, like the one above.
[edit]
Solution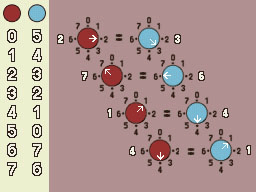 The red dial must be turned to 2, 7, 1, then 4.
[edit]
Progress
3370 Picarats and 175 Hint Coins.