DB068 - Hat Trick
This is the sixty-eighth puzzle you will encounter in Professor Layton and the Diabolical Box. To access this puzzle, you must talk to Felix. In order to solve this puzzle, you must find a hat of the same size and shape as the black one in the pattern.
[edit]
Messages
[edit]
When Failed
Too bad!
Look for an outline that exactly matches the hat shown above the pattern.
The criss-cross pattern is complicated, and it can be hard to pick out what you're looking for but, rest assured, it's there.
[edit]
When Completed
Sneaky!
Good job spotting the hidden hat! Now the professor has a hat to give to Felix!
[edit]
Solution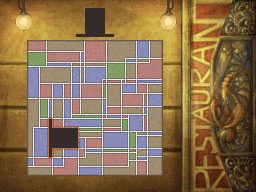 Outline the area as shown.
[edit]
Progress
1575 Picarats and 100 Hint Coins.