DB070 - The Jeweled Necklace
This is the seventieth puzzle you will encounter in Professor Layton and the Diabolical Box. To access this puzzle, you must talk to Ilyana. In order to solve this puzzle, you must determine where to make cuts in the necklace to create three strands of gems worth the same amount of money.
[edit]
Messages
[edit]
When Failed
Too bad!
Give the puzzle another try.
[edit]
When Completed
That's right!
Each strand of gems is worth $2,600. Pretty nice chunk of change!
[edit]
Solution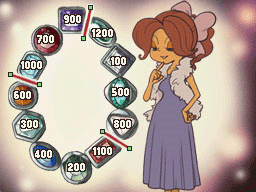 Divide the necklace as shown.
[edit]
Progress
1670 Picarats and 115 Hint Coins.