DB071 - How Old Is She?
This is the seventy-first puzzle you will encounter in Professor Layton and the Diabolical Box. To access this puzzle, you must talk to Ilyana. In order to solve this puzzle, you must determine the age of the girl.
[edit]
Messages
[edit]
When Failed
Too bad!
Decide upon a number from which to begin your reasoning, and take it from there.
[edit]
When Completed
Nice!
A careful read of the puzzle reveals that when the boy was the girl's current age, her age was half of the boy's current age. The boy's current age is 20, and half of that is 10, so the girl must have been 10 back then.
Once you know this and factor in the other hints, it's obvious that the girl must be 15 now.
[edit]
Solution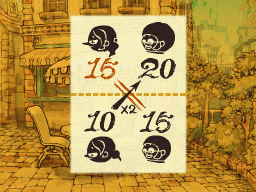 The girl's current age is 15.
[edit]
Progress
2125 Picarats and 142 Hint Coins.