DB072 - Scrambled Photos
This is the seventy-second puzzle you will encounter in Professor Layton and the Diabolical Box. To access this puzzle, you must enter the area. In order to solve this puzzle, you must determine the order in which the pictures were taken.
[edit]
Messages
[edit]
When Failed
Too bad!
Examine the four pictures again in case you missed a crucial detail.
[edit]
When Completed
Good eye!
The correct order is CDBA.
In C, the streetlight has yet to be installed, but in D, the light has been built. In B, there's a new building in the background, and the restaurant's window is broken. Finally, in A, the broken window seen in B has been patched up, and some of the lights in the restaurant's sign have burned out. What's more, the door of the photo studio has been painted a different color.
[edit]
Solution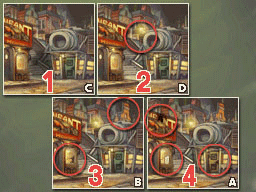 The order of the photos is C, D, B, then A.
[edit]
Progress
1610 Picarats and 100 Hint Coins.