DB075 - Candy for Five
This is the seventy-fifth puzzle you will encounter in Professor Layton and the Diabolical Box. To access this puzzle, you must talk to Marina. In order to solve this puzzle, you must divide the box into five portions, making sure each portion contains the exact same number and variety of candy.
[edit]
Messages
[edit]
When Failed
Too bad!
Give the puzzle another try.
[edit]
When Completed
Sweet!
The puzzle's solution is shown above.
Now remember, those candies are for everyone, so don't forget to share!
[edit]
Solution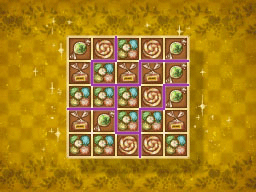 Divide the candy as shown.
[edit]
Progress
2235 Picarats and 142 Hint Coins.