DB078 - A Maze of Doors
This is the seventy-eighth puzzle you will encounter in Professor Layton and the Diabolical Box. To access this puzzle, you must examine the framed picture on the back wall. In order to solve this puzzle, you must determine which door must be opened in the opposite direction to make it out of the maze to the exit.
[edit]
Messages
[edit]
When Failed
Too bad!
Use the Memo function to draw your proposed route while you think about the problem.
[edit]
When Completed
You did it!
You have to pass through every room on the way to the exit to solve the puzzle, but no one ever said you can't pass through the same room twice.
[edit]
Solution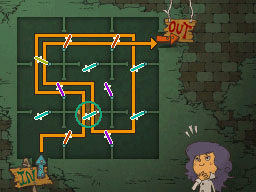 Circle the room as shown.
[edit]
Progress
3415 Picarats and 181 Hint Coins.