DB082 - Restarting the Lift
This is the eighty-second puzzle you will encounter in Professor Layton and the Diabolical Box. To access this puzzle, you must try to enter the elevator. In order to solve this puzzle, you must draw lines to connect the + and - terminals to get the elevator working.
[edit]
Messages
[edit]
When Failed
Too bad!
Did you make sure to connect the positive wire (+) and negative wire (-) to wires with the same charge?
[edit]
When Completed
We're back in business!
The elevator's working again!
[edit]
Solution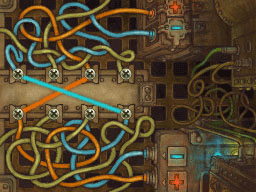 Connect the wires as shown.
[edit]
Progress
3535 Picarats and 187 Hint Coins.