DB085 - The Missing Shape
This is the eighty-fifth puzzle you will encounter in Professor Layton and the Diabolical Box. To access this puzzle, you must talk to Olson. In order to solve this puzzle, you must determine which shape fits into the sequence.
[edit]
Messages
[edit]
When Failed
Too bad!
Look at the three-dimensional structure of each shape.
[edit]
When Completed
That's right!
B is the answer.
The numbers hidden in each shape determine the sequence for this order. When you turn each shape 90 degrees clockwise, a number becomes visible. In the case of B, turning it sideways reveals the number 4.
[edit]
Solution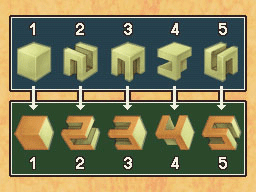 Shape B fits into the sequence.
[edit]
Progress
1860 Picarats and 121 Hint Coins.