DB087 - Different Suits
This is the eighty-seventh puzzle you will encounter in Professor Layton and the Diabolical Box. To access this puzzle, you must talk to Ray. In order to solve this puzzle, you must arrange the cards so that each column, row, and diagonal contain four different suits.
[edit]
Messages
[edit]
When Failed
Too bad!
Check over your solution to make sure you didn't make any mistakes.
[edit]
When Completed
Nicely done!
Did that one give your brain a workout? It's a great puzzle to set up with real cards and share with a friend.
[edit]
Solution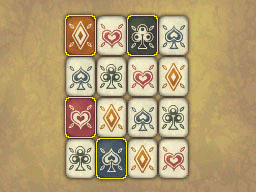 Arrange the cards as shown.
[edit]
Progress
3280 Picarats and 169 Hint Coins.