DB088 - The Frog's Path
This is the eighty-eighth puzzle you will encounter in Professor Layton and the Diabolical Box. To access this puzzle, you must examine the handrail closest to the front. In order to solve this puzzle, you must determine the fewest number of jumps it will take the frog to reach the goal.
[edit]
Messages
[edit]
When Failed
Too bad!
Give the puzzle another try.
[edit]
When Completed
That's the way to do it!
As shown in the diagram, if you think to make the frog jump back the way he came twice, he can make it to G in 12 hops.
[edit]
Solution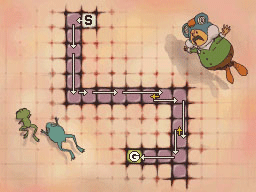 It will take the frog 12 hops.
[edit]
Progress
4065 Picarats and 218 Hint Coins.