DB089 - Flower Bed Fun
This is the eighty-ninth puzzle you will encounter in Professor Layton and the Diabolical Box. To access this puzzle, you must talk to Derby. In order to solve this puzzle, you must find the area of the red area between the flower beds.
[edit]
Messages
[edit]
When Failed
Too bad!
You shouldn't need to do any complex maths to solve this one.
[edit]
When Completed
Nice job!
The red section has an area of 400 square feet. If you quarter the space between the flower beds and fit the pieces to the circle as shown on the diagram on the right, you can turn the circle into a square. Once you do, the sides of the square will have the same length as the diameter of a single flower bed: 20 feet. Square this number to get the area and your answer.
[edit]
Solution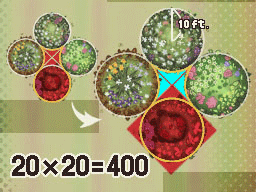 The red area is 400 square feet.
[edit]
Progress
1550 Picarats and 97 Hint Coins.