DB090 - The Unusual Fountain
This is the ninetieth puzzle you will encounter in Professor Layton and the Diabolical Box. To access this puzzle, you must examine the fountain. In order to solve this puzzle, you must determine which spout on the fountain would be useless for indicating one's age.
[edit]
Messages
[edit]
When Failed
Too bad!
Think about the fountain's method of indicating age.
[edit]
When Completed
Good catch!
The spout marked J is pretty much useless. Since A through I mark the numbers one through nine, and the spout in the middle indicates the number 10, spout J will never be used.
[edit]
Solution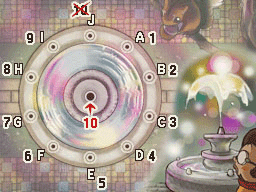 Spout J is useless.
[edit]
Progress
2790 Picarats and 160 Hint Coins.