DB091 - Sharing the Wealth
This is the ninty-first puzzle you will encounter in Professor Layton and the Diabolical Box. To access this puzzle, you must talk to Opal. In order to solve this puzzle, you must divide the land into four sections, making sure each has a house, an orchard, a pond, and an open field.
[edit]
Messages
[edit]
When Failed
Too bad!
Give the puzzle another try.
[edit]
When Completed
Good job!
Now that everyone has their own land, hopefully they can all get along.
[edit]
Solution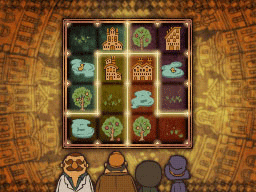 Divide the land as shown.
[edit]
Progress
3125 Picarats and 166 Hint Coins.