DB093 - How Old Am I?
This is the ninety-third puzzle you will encounter in Professor Layton and the Diabolical Box. To access this puzzle, you must talk to Joanie. In order to solve this puzzle, you must determine Joanie's age using her hints.
[edit]
Messages
[edit]
When Failed
Nope!
A grown-up like you should be able to work this one out!
[edit]
When Completed
"Hey, not bad!
"Papa's 35 and Mama's 30, meaning the difference in their ages is the same as my age, like I said.
"As for my big sis, she's 10. That's twice my age and a third of Mama's. In five years, I'll be 10 and my sister will be 15. Can you believe it? I'll practically be a grown-up by then!"
[edit]
Solution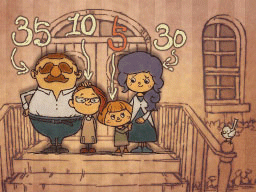 Joanie is five years old.
[edit]
Progress
1740 Picarats and 118 Hint Coins.