DB095 - Box of Books
This is the ninety-fifth puzzle you will encounter in Professor Layton and the Diabolical Box. To access this puzzle, you must examine the display case on the right. In order to solve this puzzle, you must determine the maximum number of books that can be placed into the box.
[edit]
Messages
[edit]
When Failed
Too bad!
Think in three dimensions to find the solution.
[edit]
When Completed
Very nice!
If you arrange the books in the box as shown, you can cram a whopping six books into it!
[edit]
Solution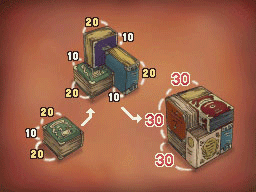 Six books can fit into the box.
[edit]
Progress
2940 Picarats and 166 Hint Coins.