DB097 - A Starry Sky
This is the ninety-seventh puzzle you will encounter in Professor Layton and the Diabolical Box. To access this puzzle, you must examine the rightmost tree leaves. In order to solve this puzzle, you must arrange the blocks so that each row and column contains three stars.
[edit]
Messages
[edit]
When Failed
Too bad!
There's at least one row or column in your solution that doesn't have three stars.
[edit]
When Completed
Brilliant!
The constellation is a bit...abstract, but oh well.
[edit]
Solution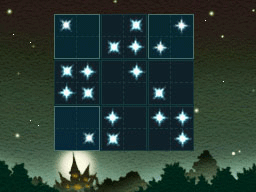 Arrange the blocks as shown.
[edit]
Progress
3655 Picarats and 193 Hint Coins.