DB110 - Chelmey's Route
This is the one hundred and tenth puzzle you will encounter in Professor Layton and the Diabolical Box. To access this puzzle, you must talk to Inspector Chelmey. In order to solve this puzzle, you must determine the route the inspector took through the town using his clues.
[edit]
Messages
[edit]
When Failed
Too bad!
Be sure to consider everything the inspector has to say about where he walked.
[edit]
When Completed
That's right!
You may have figured out the inspector's path through town, but the search for those photo scraps is just beginning.
[edit]
Solution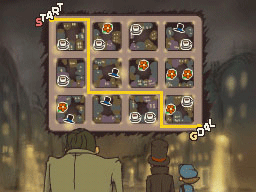 Take the route as shown.
[edit]
Progress
1985 Picarats and 142 Hint Coins.