DB114 - Fair Compensation
This is the one hundred and fourteenth puzzle you will encounter in Professor Layton and the Diabolical Box. To access this puzzle, you must examine the photographs on the left wall. In order to solve this puzzle, you must determine how many coins A and B each received for the amount of work they did.
[edit]
Messages
[edit]
When Failed
Too bad!
When you think about it, the pay you suggested isn't quite fair.
[edit]
When Completed
Smart!
A received six coins and B got three. You might have been tempted to answer five and four coins respectively, but as shown above, that isn't quite correct, because A and B both had to work three days to finish their own shares of the work. Seeing how C wanted to pay A and B for the work they did for him, he had to base his payment on the two days of work A did and the one day of work B did. Therefore, A should receive twice the pay B did.
[edit]
Solution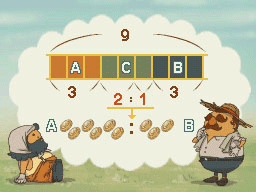 A received six coins and B received three coins.
[edit]
Progress
2720 Picarats and 160 Hint Coins.