DB115 - Tricky Digits
This is the one hundred and fifteenth puzzle you will encounter in Professor Layton and the Diabolical Box. To access this puzzle, you must talk to Krantz. In order to solve this puzzle, you must determine which number is the answer to the addition of two two-digit numbers that are created by the same two numbers.
[edit]
Messages
[edit]
When Failed
Too bad!
Think hard about the puzzle and tray again.
[edit]
When Completed
Good job!
12+21=33
35+53=88
As you can see, the sum of two two-digit numbers with inverted digits is always a multiple of 11. Of the six options presented, the only multiple of 11 is 44.
[edit]
Solution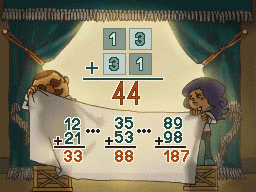 44 is the answer.
[edit]
Progress
1805 Picarats and 118 Hint Coins.