DB119 - The Fake Coins
This is the one hundred and nineteenth puzzle you will encounter in Professor Layton and the Diabolical Box. To access this puzzle, you must examine the string of garlic directly right of the door. In order to solve this puzzle, you must determine how many times the scales must be used to find which bag is filled with fake coins.
[edit]
Messages
[edit]
When Failed
Too bad!
Stick with it until you work it out!
[edit]
When Completed
You got it!
You only need to use the scale once. From every bag, remove the number of coins indicated by the bag's number. Then you just weigh these 15 coins once.
If all of the coins were real, their combined weight would be 150 units, but you'll end up with a weight less than this. The difference between this actual weight and 150 units corresponds to the number on the bag of fake coins.
[edit]
Solution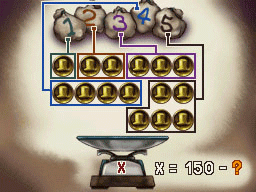 The scales must only be used once.
[edit]
Progress
1890 Picarats and 124 Hint Coins.