DB120 - Tug of War
This is the one hundred and twentieth puzzle you will encounter in Professor Layton and the Diabolical Box. To access this puzzle, you must talk to Lila. In order to solve this puzzle, you must determine which horses must go on the opposing side of horses E and F to result in a draw using the information given.
[edit]
Messages
[edit]
When Failed
Too bad!
Use the results of the earlier matches to find the correct team.
[edit]
When Completed
Way to go!
Of course, other matchups might work, but the only one you can confirm will end in a tie based on this information is horse D.
[edit]
Solution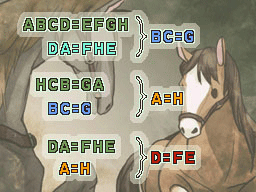 Pitting horse D against E and F will result in a tie.
[edit]
Progress
2210 Picarats and 142 Hint Coins.