DB134 - Steam Power
This is the one hundred and thirty-fourth puzzle you will encounter in Professor Layton and the Diabolical Box. To access this puzzle, you must enter the area. In order to solve this puzzle, you must open the correct valves to send steam through area 2 only.
[edit]
Messages
[edit]
When Failed
Too bad!
Are you sure some of that steam didn't make its way to areas 1 or 3?
[edit]
When Completed
Vaporific!
You only need to open three valves to direct steam to 2 and not 3 or 1.
[edit]
Solution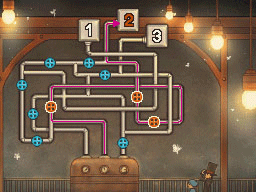 Open the valves as shown.
[edit]
Progress
4035 Picarats and 215 Hint Coins.