DB136 - The Hidden Door
This is the one hundred and thirty-sixth puzzle you will encounter in Professor Layton and the Diabolical Box. To access this puzzle, you must talk to Nigel. In order to solve this puzzle, you must use the riddle to determine which tile the hidden door is located at.
[edit]
Messages
[edit]
When Failed
Too bad!
Think about exactly what the saying is telling you to do.
[edit]
When Completed
Excellent!
The squares with stars contained neatly inside them form an arrow that points directly to the hidden door!
[edit]
Solution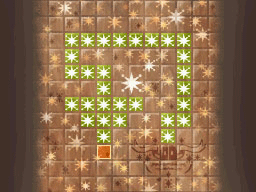 Touch the tile as shown.
[edit]
Progress
4155 Picarats and 224 Hint Coins.
Related Threads
The Hidden Door.
- last post by
@ Dec 20, 2010
the hidden door
- last post by
@ Feb 28, 2009