DB137 - One True Sword
This is the one hundred and thirty-seventh puzzle you will encounter in Professor Layton and the Diabolical Box. To access this puzzle, you must watch the cut scene after talking to Katia Anderson. In order to solve this puzzle, you must determine which sword is the real one.
[edit]
Messages
[edit]
When Failed
Too bad!
Anton's words are a hint to you. Think about what they suggest!
[edit]
When Completed
Nicely done!
"A true warrior always keeps his blade in hand."
Anton's words were a subtle hint that all the swords on the wall were for show. The only real sword in the bunch is the one sitting in the hand of the suit of armor!
[edit]
Solution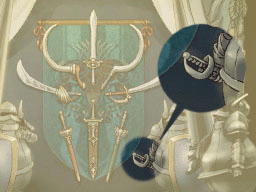 The sword belonging to the suit of armor is the real sword.
[edit]
Progress
4245 Picarats and 230 Hint Coins.