DB138 - The Elysian Box
This is the one hundred and thirty-eighth puzzle you will encounter in Professor Layton and the Diabolical Box. To access this puzzle, you must watch the cut scenes after completing the puzzle One True Sword. In order to solve this puzzle, you must open the Elysian Box using the words given.
[edit]
Messages
[edit]
When Failed
You cannot fail this puzzle.
[edit]
When Completed
Wonderful!
What was the message that Anton left to his sweetheart all those years ago?
The time has come to find out.
[edit]
Step-By-Step Solution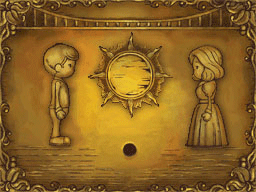 Rotate the two people to face each other.
Move the sun up.
Blow into the Nintendo DS.
[edit]
Progress
4305 Picarats and 230 Hint Coins.