DB140 - One Extra Block
This is the one hundred and fortieth puzzle you will encounter in Professor Layton and the Diabolical Box. This puzzle can be accessed through Professor Layton's Challenges. In order to solve this puzzle, you must determine which chunk of blocks contains the block sitting on top of the cube.
[edit]
Messages
[edit]
When Failed
Too bad!
Imagine combining all the chunks of the structure in your head.
[edit]
When Completed
Good eye!
B contains the 28th block.
Were you able to visualize all five pieces coming back to form a single structure?
[edit]
Solution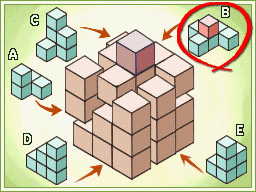 Chunk B contains the top block.
[edit]
Progress
4445 Picarats and 230 Hint Coins.