DB143 - Letter Calculations
This is the one hundred and forty-third puzzle you will encounter in Professor Layton and the Diabolical Box. This puzzle can be accessed through Professor Layton's Challenges. In order to solve this puzzle, you must determine the values of each letter in the equation.
[edit]
Messages
[edit]
When Failed
Too bad!
Try running through your calculations one more time.
[edit]
When Completed
Sharp thinking!
88x88=7744
The numbers work out perfectly if you assign A a value of 8, B a value of 7, and C a value of 4.
At first, the possibilities for what goes where may have seemed daunting, but once you realize that only a few numbers can potentially replace A, everything starts coming together.
[edit]
Solution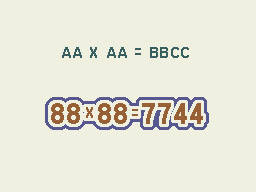 A is 8, B is 7, and C is 4.
[edit]
Progress
4664 Picarats and 230 Hint Coins.