DB145 - 500 Pearls
This is the one hundred and forty-fifth puzzle you will encounter in Professor Layton and the Diabolical Box. This puzzle can be accessed through Professor Layton's Challenges. In order to solve this puzzle, you must determine the number of pearls the traveler removed from the bag, satisfying all of the magician's conditions except for this number not being able to be divided by four after one pearl is removed.
[edit]
Messages
[edit]
When Failed
Too bad!
This puzzle may seem like a pain to solve, but if you take the time to calculate everything, there's really nothing difficult about it. There are also ways to reduce the amount of calcluation you need to do.
[edit]
When Completed
Brilliant!
The answer is 211 pearls. The magician essentially asked for a value one more than a value that, when divided by any number two through seven, produces a whole number. Any of these numbers divides neatly into 420, so when one is added to it, you get the magician's number: 421.
The number of pearls the adventurer had is a number that's neatly divided by any number from two through seven, except four. Adding one to that gets you your answer.
[edit]
Solution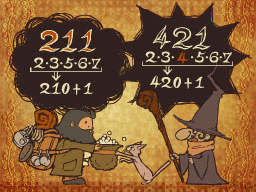 The traveler removed 211 pearls from the bag.
[edit]
Progress
4833 Picarats and 230 Hint Coins.