DB151 - Colin's Score
This is the one hundred and fifty-first puzzle you will encounter in Professor Layton and the Diabolical Box. This puzzle can be accessed through Professor Layton's Challenges. In order to solve this puzzle, you must determine what Colin's score was.
[edit]
Messages
[edit]
When Failed
Too bad!
You need to narrow down the conditions. This puzzle's a tough one.
[edit]
When Completed
A+!
An A+ for you, that is. Unfortunately for Colin, his score was 60 points.
Based on the results from the three scored tests, you could come up with four possible answer keys, labeled here as A through D. No matter which one you use, Colin's score is 60!
[edit]
Solution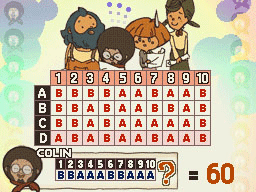 Colin received a score of 60.
[edit]
Progress
5321 Picarats and 230 Hint Coins.