Deep-Sea Dining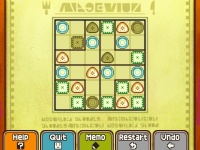 Deep-Sea Dining is a set of daily puzzles released for Professor Layton and the Azran Legacy. It is the eleventh set of daily puzzles.
"Throw a three-course banquet under the sea!"
[edit]
How to Solve
Slide a dish across the table with the stylus on the Touch Screen, to arrange the table so that one of each dish appears in each outlined area. Dishes can only be moved tiles where a dish of the same shape doesn't appear in an adjacent tile, and only if they're colored.
You must place one of each dish in each area if the table to solve the puzzle.
[edit]
List of Puzzles