AL028 - Directing a Delivery
(Redirected from Directing a Delivery)
This is the twenty-eighth puzzle you'll encounter in Professor Layton and the Azran Legacy. To access this puzzle, you must interact Dean Delmona. In order to solve this puzzle, you must figure out which animal symbolizes which direction to travel in order for the clown to deliver the flowers.
[edit]
Messages
[edit]
When Failed
You cannot fail this puzzle.
[edit]
When Completed
You're no clown!
The commands need to be assigned as follows:
Cat = turn right
Bear = turn left
Rabbit = go forwards
Elephant = jump a square
The little girl is very grateful for her flowers!
[edit]
Solution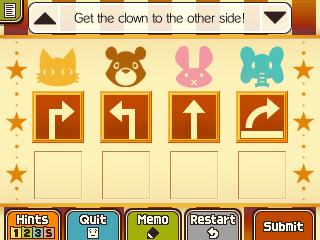 Arrange the commands as shown.
[edit]
Progress
905 Picarats and 88 Hint Coins.
Last edited by
Squiggle
on 24 March 2014 at 20:56
This page has been accessed 985 times.