DB001 - Dr. Schrader's Map
(Redirected from Dr Schrader's Map)
This is the first puzzle you will encounter in Professor Layton and the Diabolical Box. To access this puzzle, you must enter the area after viewing the cut scene. In order to solve this puzzle, you must place the map pieces in the correct spots.
[edit]
Messages
[edit]
When Failed
Too bad!
Read the puzzle carefully and try again.
[edit]
When Completed
Excellent work!
Now, hop to it! You've got to get to Dr. Schrader's apartment!
[edit]
Solution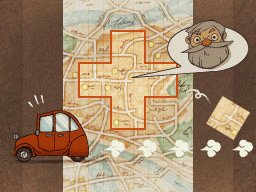 Arrange the map pieces as shown.
[edit]
Progress
10 Picarats and 10 Hint Coins.
Last edited by
Squiggle
on 30 November 2015 at 20:32
This page has been accessed 10,771 times.