Espella Cantabella
Espella Cantabella is a major character in the game Professor Layton vs. Phoenix Wright: Ace Attorney. In the game, she accused of being a witch and Phoenix Wright is sent in to defend her in court. The crimes she is being accused of have been labelled as the Witch Trials.
[edit]
Appearance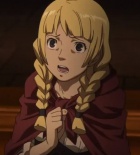 Espella is a young woman with light blonde, plaited hair and dark brown eyes. She wears a white ballerina-like dress with a black triangular detail on the bottom of her dress. Alongside her dress, she wears a red cape that is joined together around her neckline, brown boots, a brown knotted belt, a brown satchel and a black corset with brown ribbon.
Ten years before the events of Professor Layton vs. Phoenix Wright: Ace Attorney, Espella lived with her parents, her father being Arthur Cantabella, in the town where Labyrinthia now stands. She was close friends with Eve Belduke, as were their fathers. Her father often took her to the top of the bell tower, however no matter how much she wanted to ring the bell, he told her that if she did, the Great Witch Bezella would possess her and cause great calamity.
On the night of the fire festival, Espella convinced Eve to take her mother's pendant in order to gain them access to the top of the bell tower, so she could ring the bell. She later had second thoughts about ringing it, so Eve instead decided to. This caused the entire town to fall unconscious, due to their condition of falling unconscious to the sound of pure silver, and this causes the entire town to burn in a large fire. Espella soon wakes up to see the entire town on fire, and thinks she had summoned a fire dragon after ringing the bell, and again falls unconscious. Arthur and Newton Belduke find them both at the top of the bell tower, and consequently, Eve pins the blame on Espella.
Since this incident, Espella has believed she is Bezella after what her father told her, and hadn't talked to anyone for days. Arthur decided to write and illustrate a picture book for her about a witch who was punished for cause trouble in a town, and this cheered Espella up. He went on creating more stories for her, eventually, with Eve's help, getting people to act the stories out. He then decided to use the town that had been destroyed to build Labyrinthia with government funding, where witches and witchcraft existed. In time, Espella forgot about Bezella.
[edit]
Quotes
[edit]
After Answering the Puzzle
"Don't worry, I can handle this!"
"Oh, how exciting!"
[edit]
Solving the Puzzle
"I'm so glad I was able to help!"
"Puzzle solving is a lot of fun, isn't it?"
[edit]
Failing the Puzzle
"This one is a bit tough...but I won't give up!"
"Could I perhaps try it one more time?"
[edit]
Trivia
In early designs of Espella, she was designed to look like a prison runaway.
Her current design is based on Red Riding Hood and Jeanne d'Arc.