MM043 - Evenly Matched
(Redirected from Evenly Matched)
This is the forty-third puzzle you'll encounter in Professor Layton and the Miracle Mask. To access this puzzle, you must talk to the policeman. In order to solve this puzzle, you must evenly divide the pawns to make sure one black and one white pawn are enclosed in areas of the same shape.
[edit]
Messages
[edit]
When Failed
Try again.
Start from somewhere you know will have to be cut.
[edit]
When Completed
Correct!
That was nicely cut!
[edit]
Solution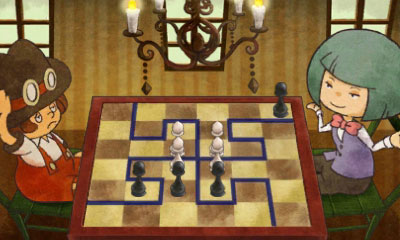 Divide the board as shown.
[edit]
Progress
1360 Picarats and 133 Hint Coins.
Last edited by
Squiggle
on 21 August 2015 at 21:02
This page has been accessed 2,302 times.