UF014 - Find the Station! (UK)
(Redirected from Find the Station! (UK))
For the puzzle appearing in the US version, see UF014 - Find the Station! (US)
This is the fourteenth puzzle you will encounter in Professor Layton and the Unwound Future. To access this puzzle, you must talk to Becky. In order to solve this puzzle, you must determine the location of the station.
[edit]
Messages
[edit]
When Failed
Too bad!
Try using the Memo Function to draw the route on the map.
[edit]
When Completed
Good navigation!
If you take the route that the students take to the library and just start at the flower shop, you end up with the map above.
There are a couple of other routes you could take, but they all end up at the same destination.
[edit]
Solution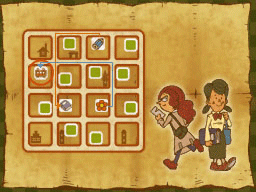 Circle the area as shown.
[edit]
Progress
265 Picarats and 56 Hint Coins.
Last edited by
Squiggle
on 9 November 2015 at 21:27
This page has been accessed 647 times.