Flight Mapping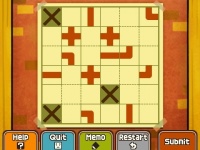 Flight Mapping is a set of daily puzzles released for Professor Layton and the Azran Legacy. It is the tenth set of daily puzzles.
"It's a nice clear day. Draw a route for your test flight!"
[edit]
How to Solve
Connect a single path on the board using the stylus on the Touch Screen, however not every tile is needed to be used. To erase a path, simply draw over it. Tiles with pre-set paths can be tapped to rotate them, and must be used. Crossroads and T-juntions cannot be drawn.
You must create a single path to solve the puzzle.
[edit]
List of Puzzles