Food Chain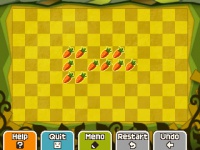 Food Chain is a set of daily puzzles released in Professor Layton and the Miracle Mask. This is the sixth set of daily puzzles that were revealed.
"Mmm, aren't these carrots delicious! And they stretch as far as the eye can see! If I eat all these, I'll be bouncing off the burrows! Who's afraid of a big bad wolf, anyway?"
[edit]
How to Solve
Tap any carrot on the touch screen to decide where the bunny starts its course. You can only tap any carrot on the same horizontal or vertical line afterward. Tap any of these carrots and it will eat any carrot it passes.
After making your first move, a wolf will appear right behind the bunny, which disallows you from moving backwards.
You must lead the bunny around the area and eat all the carrots in order to solve the puzzle.
[edit]
List of Puzzles