Forbodium Castle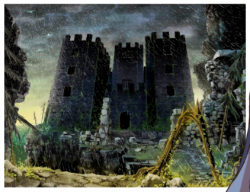 Forbodium Castle is a location constantly mentioned in Layton Brothers: Mystery Room. It is the setting for the last two cases in the game: Ham and Cheese, and Good Cop, Bad Cop, and is also the location of two murders: Keelan Makepeace from four years prior to the game's events, and his daughter Diane Makepeace.
The castle was used as a hideout for Makepeace when he was involved in the Jigsaw Puzzle Killings. Four years ago, the police team at Scotland Yard tracked down his location there, and with Alfendi Layton going on ahead, he located Makepeace on the roof of the castle, and both of them were shot. Alfendi miraculously survived, but fell into a coma, while Makepeace died on the scene. Both of them were first spotted by Justin Lawson, who was located on the other side of the castle, and quickly called for Hilda Pertinax and the Commissioner, who had accompanied him to the castle, to make their way to their location.
Four years later, Diane used the castle as her hideout, and drew Alfendi to go there on his own, or else she would detonate a bomb on a school, hospital, or Lucy Baker's home. She then tied him down to a chair in one of the rooms, and also tied his hands together. Lucy and Hilda soon followed to the castle, and after solving a reproduced case that Diane had set Lucy, she follows a secret passage out of the room she was shut in, hearing a gunshot from above. At that point, Alfendi was about to be shot by Diane, but she was shot herself, first assumed to be Alfendi as he had the murder weapon in his hands. The events that had happened make the three of them, as well as Justin, reopen the case of Makepeace's murder from four years ago, and eventually find out the truth that Justin was the killer of both victims.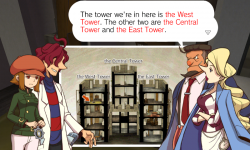 The castle is made up of three towers; the West Tower, the Central Tower and the East Tower. The West Tower is the location of where both murders took place. The Central Tower is the largest tower in the castle, with the floor before its roof stretching up as high as the roof of both other towers.
[edit]
Trivia
In the fifth case The DJ's Swansong, Justin Lawson mistakenly refers to Forbodium Castle as "Radmond Castle". Whether this is a translation error is unknown.