Formula for Success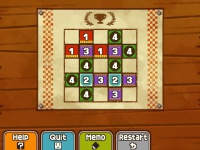 Formula for Success is a set of daily puzzles released for Professor Layton and the Azran Legacy. It is the first set of daily puzzles.
"Clear the board and wipe the floor with the competition!"
[edit]
How to Solve
Touching each numbered square on the board increases its number by 1. Touching a square with 4 will change its number back to 1. Numbers adjacent to each other that are the same will disappear. Squares left on their own will not be able to disappear.
You must make all the squares on the board disappear to solve the puzzle.
[edit]
List of Puzzles