Ghouls and Guards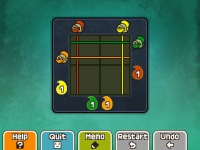 Ghouls and Guards is a set of daily puzzles released for Professor Layton and the Miracle Mask. This is the third set of daily puzzles that were revealed.
"This gloomy castle has been besieged by uninvited ghosts! Use the magical mirrors to vanquish them with the light of justice! How does it work, you ask? Well...might is right!"
[edit]
How to Solve
To place down a mirror, simply tap a particular part of the grid on the touch screen in where you want to place a mirror. Once placing a mirror down, tap it once to rotate it, and once again to remove it. You must place them in a way that will banish a ghost with a beam of the same color, and only one mirror can be placed in each section.
The numbers on each ghosts corresponds to how many times the beam of light must be reflected, for example, a beam of light must reflect off one mirror for a ghost with the number '1' on it.
You must banish all the ghosts by placing the mirrors in each particular way to solve the puzzle.
[edit]
List of Puzzles