Giuseppe
Giuseppe



Role
Minor Character
Gender
Male
Appearances
Curious Village
Occupation
Market Butcher
Giuseppe is St. Mystere's Market Butcher located in the north of St. Mystere. Giuseppe gives the infamous Blue Vase to Professor Layton, used later to frame Layton for killing Simon.
[edit]
Appearance
Giuseppe wears a blue cap, hiding short, brown hair. He also has a long moustache that goes over his mouth, almost acting as a beard. He wears a salmon pink shirt with baggy cargo green pants, with an apron over the top. Giuseppe also wears black boots.
Giuseppe gives a small plot, giving out puzzles to Professor Layton and Luke to solve. He also gives them a Blue Vase, which is soon to be used to accuse Layton for the murder of Simon.
[edit]
Biography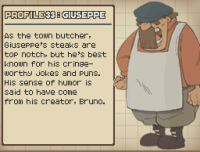 As the town butcher, Giuseppe's steaks are top notch, but he's best known for his cringe-worthy jokes and puns. His sense of humour is said to have come from his creator, Bruno
[edit]
Puzzles