Granny Riddleton's Shack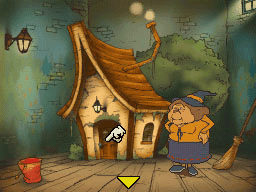 Granny Riddleton's Shack is a small shack owned by Granny Riddleton. The shack is used to store puzzles which the player skipped over during a period in the game and cannot go back to complete them at their original location. It is an old building with moss growing around. In Professor Layton and the Curious Village, Professor Layton must solve the puzzle Get the Ball Out! 1 and complete chapter 1.
In Professor Layton and the Diabolical Box, Granny Riddleton owns multiple houses throughout the game, as she is in a different house at different locations. Her first house is located in one of the cars on the Molentary Express. As soon as Layton and Luke finds themselves in Dropstone Village, Granny Riddleton has relocated to the plaza near the station. After she moves once more, she stays at the western side of Folsense.
However, in Professor Layton and the Unwound Future, Granny Riddleton is helped out by Beasly. Beasly is later killed by Granny R.'s granddaughter Puzzlette, who takes over from Beasly's puzzle keeping duties. Beasly has specialised flowers in order to keep his puzzles. After he dies, the flower looks in need of nutrients but puzzles can still be obtained here. The shacks are located to the South of Chinatown in Future London and in the Abandoned Shop in London.
In Professor Layton and the Last Specter, Granny R. is yet again replaced, this time by her pet cat Keats. Keats is found in various locations in Misthallery including outside the Black Market, the path towards Barde Manor and the Strange House.
Granny Riddleton's shack does not play much of a part in Professor Layton's London Life. Infact, it is empty. As Granny Riddleton states, it is rare to find her shack empty.