Kingdoms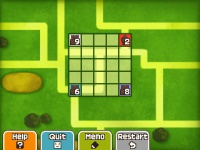 Kingdoms is a set of daily puzzles released for Professor Layton and the Miracle Mask. It is the eighth set of daily puzzles that were revealed.
"Beneath the façade of peace, a vicious struggle for power threatens the very foundation of our country. I beseech you, aid us by dividing our kingdoms into their respective areas!"
[edit]
How to Solve
Slide the stylus on the grid from one of the kingdoms to draw a rectangular frame, using it to draw out each territory. The numbers on each kingdom indicate how many squares of land they have rights to. When the correct amount of land is drawn, the rectangle will turn blue. When there is too much land traced out, the rectangle will turn red.
Territory cannot be shared by more than one kingdom. When this occurs, the rectangle will turn red.
You must divide the land up to the correct amount for each kingdom in order to solve the puzzle.
[edit]
List of Puzzles