LS004 - Reloading the Cart
This is the fourth puzzle in Professor Layton and the Last Specter. To access this puzzle, you must talk to Jasmine. In order to solve this puzzle, you must fit the items back into the cart.
[edit]
Messages
[edit]
When Failed
You cannot fail this puzzle.
[edit]
When Completed
Well done!
This also works with every item rotated 180 degrees.
"With my cart so securely loaded, I've nothing to fear from these bumpy roads! Thank you so much!"
[edit]
Solution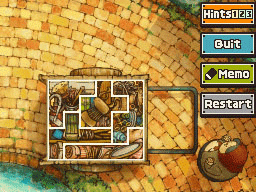 Arrange the items as shown.
[edit]
Progress
80 Picarats and 25 Hint Coins.