LS006 - Letter Box Plate (UK)
For the puzzle appearing in the US version, see LS006 - The Mailbox Panels (US)
This is the sixth puzzle in Professor Layton and the Last Specter. To access this puzzle, you must examine the mailbox. In order to solve this puzzle, you must arrange the panels on the mailbox so it reads "1234".
[edit]
Messages
[edit]
When Failed
You cannot fail this puzzle.
[edit]
When Completed
Correct!
The number 1234 is formed by the spaces between the pieces, not the pieces themselves.
Surely the streets around here can't be that long, though?
[edit]
Solution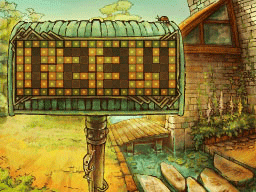 Arrange the panels as shown.
[edit]
Progress
135 Picarats and 37 Hint Coins.