LS013 - Bucket Run
This is the thirteenth puzzle in Professor Layton and the Last Specter. To access this puzzle, you must examine the small pool. In order to solve this puzzle, you must draw a route from the star, taking the quickest route to both fountains while not traveling the same path twice.
[edit]
Messages
[edit]
When Failed
Too bad!
Try to find the route that will take the least amount of time.
[edit]
When Completed
Correct!
If you followed the same path traveling in the opposite direction, you would have to carry heavy, water-laden buckets quite a long distance. That would slow you down, so it isn't the fastest way.
[edit]
Solution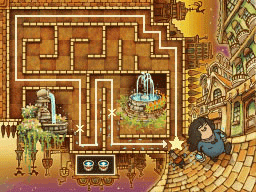 Take the route as shown.
[edit]
Progress
410 Picarats and 81 Hint Coins.