LS019 - Fish Feud
This is the nineteenth puzzle in Professor Layton and the Last Specter. To access this puzzle, you must talk to Marion. In order to solve this puzzle, you must divide the fish so that they will get along. After completing this puzzle, you will be given the Fish mini-game.
[edit]
Messages
[edit]
When Failed
Too bad.
It's clear that you must separate the fish that don't get along, but perhaps you need to think along different lines.
[edit]
When Completed
Success!
These fish are as happy as clams with their new friends!
[edit]
Solution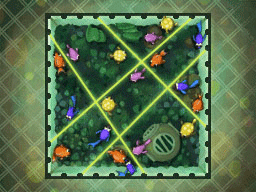 Divide the fish as shown.
[edit]
Progress
510 Picarats and 105 Hint Coins.